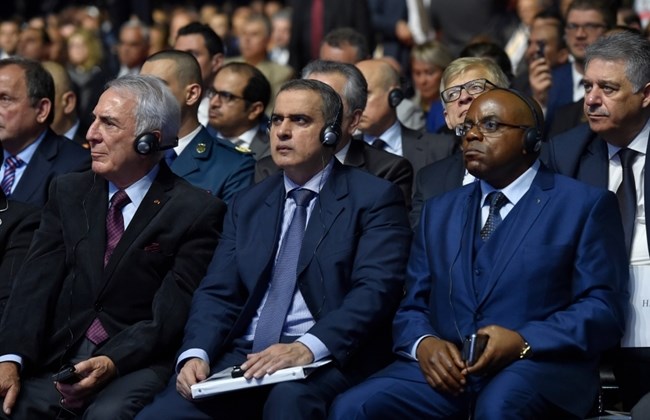 Diaspora flocks to Beirut to reclaim nationality
Reading Time:
4
minutes
President Michel Aoun and Prime Minister Saad Hariri signed a decree Thursday in front of an audience of over 1,000 members of the Lebanese diaspora with the aim of encouraging them to reclaim their Lebanese citizenship. The decree was signed as part of the fourth annual Lebanese Diaspora Energy Conference, hosted by the Foreign Ministry.
At the Cabinet meeting following the event, Aoun, Hariri and Interior Minister Nouhad Machnouk officially granted Nazih Mikhael Khazzaka Lebanese citizenship, the first diaspora member to gain a passport under Law 441, passed in 2015.
Speaking at the event held at the Beirut International Exhibition and Leisure Center, Aoun told conference attendees, "You belong to a small nation on the coast of the Mediterranean Sea whose geographical footprint doesn't even allow for its name to be written completely across a map."
Aoun rhetorically asked, "What is greater than returning to the motherland to which you belong?"
The President went on to say it is the duty of the diaspora to help rebuild Lebanon. "Just as it is your duty to be loyal to the nations that took you in and granted you a better life, and which you helped build … it is also your duty to be loyal to your motherland that calls on you to also help build it," Aoun said.
Also at the conference, Foreign Minister Gebran Bassil renewed calls for a number of parliamentary seats to be allocated for the diaspora. "It is your right to have MPs that represent you and that is why we are fighting to have six seats in our Parliament [for you], one for each continent. … Stay Lebanese," Bassil said.
Some members of the Lebanese diaspora were visiting the country for the first time to attend the conference. A group of around 10 Argentines of Lebanese origin sat together, with one woman telling The Daily Star this was her first time in the country. "After attending the LDE conference in Sao Paulo [last year], I decided to come to this year's conference in Beirut," she said.
The conference opened with Ghady Bechara, a contestant in last year's Arab talent competition "The Voice Kids," singing a Lebanese folk song. The Arabic lyrics, true to the theme, translated roughly as, "Our meeting is with you, on our land, our nation."
Among the keynote speakers were former Dominican Republic presidential candidate Luis Abinader. The current front-runner for the island nation's 2020 presidential elections told the audience that between 80,000 and 100,000 Dominicans are descendants of Lebanese immigrants "who have successfully integrated into the Dominican society."
Former United States congressman Nick Rahall spoke of his pride at being Lebanese, saying, "Khalil Gibran was so correct when he penned the words, 'He who denies his heritage, has no heritage.' My heritage is Lebanon."
Rahall described the Lebanese diaspora as "the beating heart that pumps the blood of life to the entire world." He also made reassurances of America's commitment to Lebanon, saying, "We continue to believe strongly in a sovereign, free and independent Lebanon."
Another notable keynote speaker was Brazilian Formula One Champion Felipe Nasr. The 24-year-old spoke of his ambition to connect with his roots as well as encourage younger generations of the Lebanese diaspora to stay connected with the country. "This is my first trip to Lebanon and I am very excited to be here," he said.
Lebanese American University President Joseph Jabbra told The Daily Star of his excitement for the event. "[It] is incredible and very moving to see Lebanese people from so many different countries coming back here," he said. Jabbra added that he thought the event showed how the Lebanese, wherever they are, are proud of their origins. "This is one emotionally loaded event," he said.
Meanwhile, business development director at TATA Consultancy Services, Georges Fares, who had come to Beirut from New York, said more than dialogue was needed to improve the situation in Lebanon. "It is very important for us to be united. If 17 million Lebanese helped build the U.S., why can't we do the same for our homeland?"
Fares said that events such as the LDE were vital, but "more needs to be done at the grass-roots level here."
Former Telecoms Minister Nicolas Sehnaoui called on expats to maintain connections with Lebanon.
"People are encouraged to invest in Lebanon and keep links open in Lebanon," the now-chairman of U.K. Lebanon Tech Hub said.
"By link, I mean a simple phone call, emotional, cultural or business link is important. … This network is asleep and must be awoken," Sehnaoui added.
Son of slain Lebanese President Rene Moawad, Michel, told The Daily Star the Foreign Ministry's work was commendable and that the conference was a good contribution to the development of the country.
"We have many problems in Lebanon, but we are not the only country in the world with problems. … In order to solve these problems, we must start with communication between Lebanese inside and outside of the country." But he remained upbeat, highlighting the numbers the conference drew. "Who would have thought, five years ago, that this event would be this successful?"
Lebanese-American Dr. Joseph Khalil, an attendee at the conference, spoke of the importance of giving back to Lebanon. "We learned morals, values and work ethic in Lebanon so we must give back just as it gave [to] us," Khalil said.
He added that he made sure to teach his children about their Lebanese heritage, so that it is not forgotten. "I am the first generation in my family to leave so I must show my kids where we originally come from."
A version of this article appeared in the print edition of The Daily Star on May 05, 2017, on page 2.